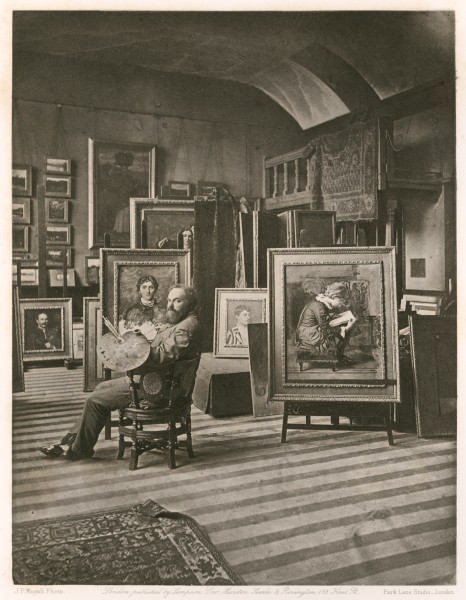 Prinsep was born on 14 February 1838 in Calcutta, India and died on 11 November 1904 in London. He is buried in Brompton Cemetery. He was a British oil painter of the Pre-Raphaelite school.
His parents returned to England in 1843. They settled in 1851 at Little Holland House and made it a centre for artistic society. His father Henry Thoby Prinsep was a friend of the painter George Frederic Watts, under whom his son studied and travelled with Watts in 1856-57 to Sir Charles Thomas Newton's excavation of Halicarnassus.
He then went to Charles Gleyre's atelier in Paris where James Abbott McNeil Whistler, Edward Poynter and George de Maurier were among his fellow students. After Paris, he went to Italy with Edward Burne-Jones.  He visited Siena and there made the acquaintance of Robert Browning. He was also a friend of John Everett Millais. He decorated the hall of the Oxford Union along with Dante Gabriel Rossetti and others.
He first exhibited at the Royal Academy of Arts in 1862 with his "Bianca Capella" a portrait of General Gordon (1866) in Chinese costume.  Other major paintings were "Miriam watching the Infant Moses" (1867), "A Venetian lover" (1868) and "Bacchus and Ariadne" (1869).
In 1877 Prinsep returned to India and produced a huge picture of the Delhi Durbar which was exhibited in 1880 at the RA. It was later presented to Queen Victoria and hung in Buckingham Palace.
His marriage in 1884 to Florence, daughter of the shipowner and art patron Frederick Richards Leyland, made Prinsep a wealthy man.