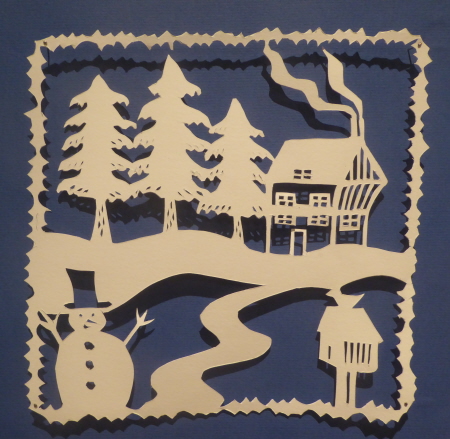 Season's Greetings from Christine & Val 
Image created by Val at a Papercutting Workshop at The Malthouse, Herstmonceux run by Ian Penney a paper cut artist from Rye. An article about Papercutting will appear in the first edition of THE PEVENSEY BAY ART JOURNAL which Val is editor of.  It will be published on Saturday 26 January 2019 as a quarterly supplement to the Pevensey Bay Journal which costs 40p and is available from selected newsagents in and around the Bay. It is also available on digital and postal subscription.
The new Art Journal will be aiming to promote art and crafts throughout our region and will aso be reporting on events further afield.
Details of art events and activities to appear on Page 3 Free Listings should be sent to info@rachersoncanvas.co.uk