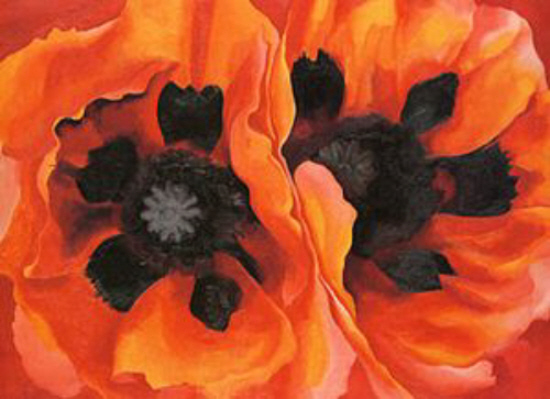 Georgia Totto O'Keeffe was an American artist best known for her paintings of enlarged flowers, she made about 200, New York skyscrapers and New Mexico landscapes.
Born on 15 November 1887 in Sun Prairie, Wisconsin she died on 6 March 1986 in Santa Fe, New Mexico.Her maternal grandfather, George Victor Totto, after whom she was named, was an Hungarian Count who arrived in the US in 1848. O'Keeffe decided she wanted to be an artist at the age of ten and later studied at the School of Art Institute of Chicago.
After a bout of measles she didn't paint for four years because the smell of turpentine made her ill. Instead she took up teaching art.
Inspired by Precisionism, The Green Apple, completed in 1922, depicts her notion of simple, meaningful life.
She was recognised as the "Mother of American Modernism". Typical of her style the picture, inserted above, is also called "Red Poppies" and is an oil painting featuring a close-up of two papaver orientale that fills the whole of a 40″ x 30″ canvas. It was completed in 1928.
O'Keeffe was a legend, known as much for her spirit and female role model as for her dramatic, innovative works of art. She received unprecedented acceptance as a woman artist from the fine art world.
O'Keeffe was quoted as saying "I found I could say things with colour and shapes that I couldn't say any other way – things I had no words for".