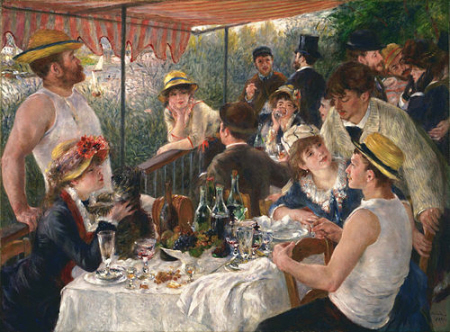 "Pierre-Auguste Renoir was a French Impressionist painter born 25 February 1841 in Limoges, France and died on 3 December 1919 in Cagnes-sur-Mer, France. His father was a tailor of modest means and the family moved to Paris in 1844 in search of better prospects. Their new home was near the Louvre and this was to provide  inspiration to the young Renoir. He left school at the age of 13 to take an apprenticeship in a porcelain factory but eventually entered the Ecole des Beaux Arts.
e later met Alfred Sisley, Frederic Bazille, Claude Monet and Pissarro and they mounted their first Impressionist exhibition together with a few other artists in 1874. In an effort to improve his income he undertook commissions for portraits. In 1883 Renoir spent  the summer in Guernsey where he painted 15 pictures in little over a month.  Most where of  Moulin Huet a bay in St Martin's. A set of postage stamps of these paintings were commissioned by the Balliwick of Guernsey in 1983.
Renoir's paintings were notable for their vibrant light and saturated colour and often featured the female nude. In characteristic Impressionist style Renoir suggested the details of a scene through freely brushed touches of colour so that his figures softly fuse with one another and their surroundings.
.1890 he married Aline Victorine Charigot, who with some friends modelled for the picture "Le Dejeuner des Canotiers (pictured above). She is the woman on the left playing with a dog. After his marriage Renoir painted many scenes if his wife and family life including his children.
In  his later years Renoir developed rheumatoid arthritis and moved to a warmer climate at "Les Collettes" a farm at Cagnes-sur-Mer close to the Mediterranean coast. He developed progressive deformities in his hands and ankylosis of his right shoulder requiring him to change his painting technique. in 1919 he visited the Louvre to see his paintings hanging with those of the Old Masters.
"I've been 40 years discovering that the queen of all colours was black".