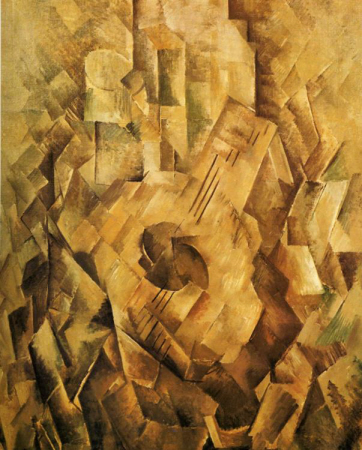 Georges Braque was a major 20th century French painter, collagist, draughtsman, printmaker and sculptor. Born 13 May 1882 in Argenteuil, France he died 31 August 1963 in Paris, France. He grew up in Le Havre and trained to be a house painter and decorator like his father and grandfather. He decided to study painting during evenings at the Ecole des Beaux-Arts.
His earliest works were impressionistic but later he adopted a fauvist style. From 1908 to 1912 his new interest was geometry and simultaneous perspective. Braque frequently reduced an architectural structure to a geometric form approximating a cube, yet rendered its shading so that it looked both flat and three dimensional by fragmenting the image.
Although he began his career painting landscapes during 1908 he, alongside Pablo Picasso, discovered the advantages of painting still lifes. He is quoted as saying "this answered the hankering I have always had to touch things and not merely see them".  His painting 'Mandola' a 1910 oil painting is acknowledged as a masterpiece of analytical cubism.
Georges Braque is regarded as the elder statesman of the School of Paris and of Modern Art.