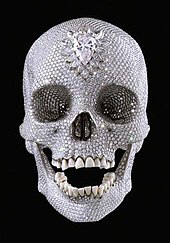 Damien Steven Hirst born 07 June 1965 in Bristol is an English artist, entrepeneur and art collector. He is one of the Young British Artists (YBAs) who dominated the art scene  in the UK during the 1990s. He is known for conceptual and installation art. He is reportedly the UK's richest living artist, with his wealth valued at £215 million in the 2010 Sunday Times Rich List. 
During the 1990s his career was closely linked with the collector Charles Saatchi, but increasing frictions came to a head in 2003 and the relationship ended.
Death is a central theme in Hirst's works. He became famous for a series of artworks in which dead animals (including a shark, a sheep and a cow) are preserved in formaldehyde. In 1995 he won the Turner prize.
In June 2007, Beyond Belief Exhibition opened at White Cube Gallery, London. The centrepiece was a human skull recreated in platinum and adorned with 8,601 diamonds costing approximately £15million. Titled 'For The Love Of God' the asking price was £50 million. It didn't sell outright but the following August it was sold to a consortium that included Hirst himself and his gallery.
In September 2008 Hirst made an unprecedented move for a living artist by selling a complete show ' Beautiful Inside My Head Forever' at Sotheby's by auction and by-passing his long-standing galleries. The auction raised £111 million breaking the record for a one-artist auction. 
"I remember when you used to have your profession on your passport and I always thought that being a painter was the best one to be because my heroes were Goya and Francis Bacon" quote from Damien Hirst.